So, one week of an pure bliss of an vacation in Kalyves, Crete, Greece that's been wonderful.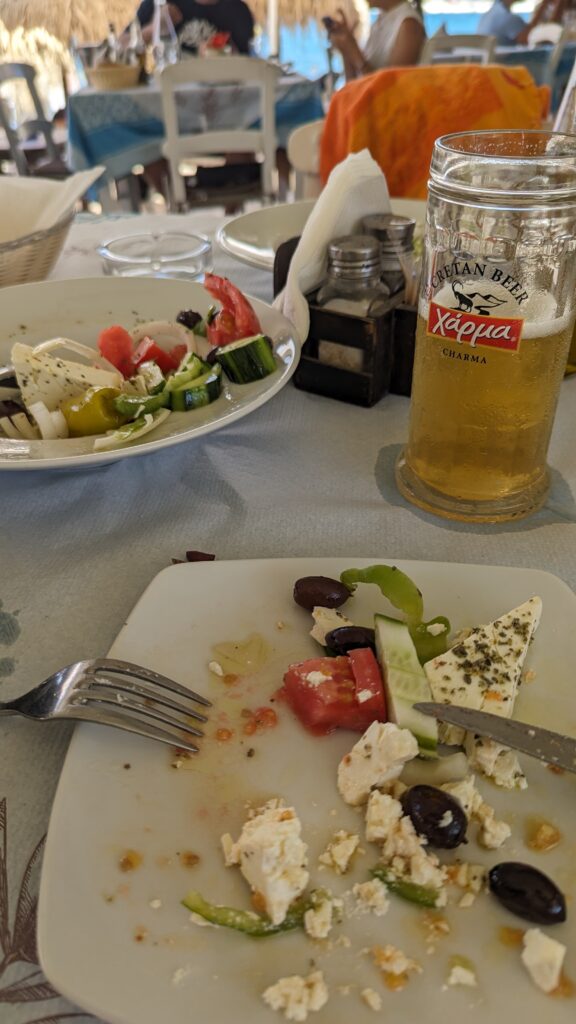 Our time has been spent 80% on sun beds on the beach in the hard-to-find shade but temperatures has been set at to a steady +30°C everyday but the Mediterranean cooling us down a bit
Kalyves was very much the same as ten years ago, some small shops, cafés and some very good restaurants indeed. Many of the restaurants is located by the beach so you can both get a sun bed and a lunch at the same place.
10% of our time has been our sleeping hours, in a room with a oceanic view at Kalyves Beach Hotel, the same place we celebrated my 40'th birthday.
5% of the time must have been eating some very tasty meals. Kalyves Beach Hotel had an offer that we took. All-inclusive for only €10 per day/person so we have not been moving ourselves around that much.
But since we paid Cretes biggest town Chania a visit (it was more or less horrible with all the other tourists there) I'll say that 5% of our time in Kalyves have been moving ourselves around.
👍's
Kalyves – It's small village but thats what makes it where you want to stay.
Il Forno – Our restaurant of choice.
Charma Pale Ale – Il Forno serves it.
All the friendly cats.
👎's
Loud Children + Teens
People that still cant figure out how a buffet breakfast/lunch/dinner works.